WHERE WE SERVE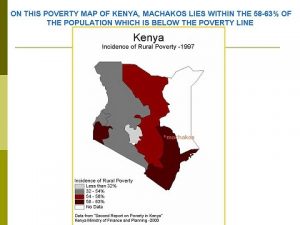 KUSARD'S PROJECTS are located within communities of the Kamba people in the Machakos and Makueni Counties in the South-Eastern par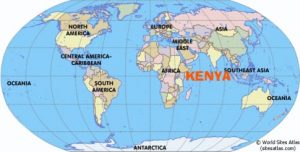 t of Kenya. The founder of this Organization, originally came from this part of Africa and so naturally, it was in his home area of Kituiuni Village in the Makueni County where he started the initial pilot program of feeding young school children but soon the Program grew in leaps and bounds to embrace other parts of the Makueni County, recalling the old saying, "Charity starts at home, but never ends there!
It's humble beginnings, like the Biblical Mustard Seed, started with only a handful of kids, in its Food & Nutrition Program, sponsored by the Christian Community of St. Therese, Succasunna, NJ USA, but quickly grew and over the years.  THE KUSARD FOUNDATION diversified from it's Food Program Services to encompass other areas of need. The rapid expansion of its work was spurred by e-commerce; networking and word of mouth advocacy, especially from those who had gone, through our "Kenya Mission Programs, and seen what impact donor funding had accomplished on the lives of real people, turning them around.
KUSARD is only a conduit to channel the good works of OTHERS to germinate and bear fruit on others' lives and bring light to those on straight and narrow in every aspect of life! With a corporate Donation from the World Fuel Services Corporation, in Florida, Miami USA, we started a Computer College for poor kids in Kyale Parish Kenya; And a Grant from the Lion's Club of Western Australia enabled us construct a Village Polytechnic in Kituiuni. Not long after that, the Wayne Presbyterian Church Community  in New Jersey, which was then headed by Rev. James Brassard, partnered with KUSARD to erect a Community Health Center at Mbuini, in St. Cecilia Parish Kituiuni. Over and above all these wonderful accomplishments, we also have individual sponsorship program for needy kids dubbed"SISI NI JAMII  i.e "WE ARE FAMILY" particularly for the benefit of orphans whereby Sponsors take a child as their own and assist them through High School with their basic needs like food; clothing; medicine; tuition, etc at an average cost of $25 to $45 a month.
The targeted population close to 40,000 lives in the South-East region of Kenya which is semi-arid and suffers from poor soil fertility and rainfall, making it a marginal agricultural area prone to food shortages and famine.  A January 2001 survey by the Red Cross highlighted the disadvantaged nature of this backwater area.
A few years after we started our Food Program, a drought situation gripped Kenya. It began in 1999, and it turned out to be one of the worst in the last 60 years, placing Kenya second only to Ethiopia on the list of worst affected countries in the region. Three successive seasons of poor rainfall in parts of Kenya have resulted in between 2 and 3 million people being at risk of starvation after 20 million cattle died and 70% or more of their crops lost.
"Small-scale subsistence farmers who depend on rain for their main livelihoods of agriculture and livestock have been reduced to a state of destitution. The Kamba people in Kenya's Machakos and Makueni Districts had nothing to eat and nothing left to plant. And conditions just seem to worsen as it now appears every 2 to 3 years a severe drought spell is taking place and food shortages are becoming a norm.
This assessment by the Red Cross of the state of affairs paints a bleak picture of the future, as less and less rains fall, and when they ever do come, they find a land desolate and naked due to deforestation and therefore subject to sever soil erosion, leaving behind a land further impoverished and the ensuing results are, severe famine when drought surely follows withering in its wake whatever vegetation or crops had started to sprout.
One way in which KUSARD tried to address this problem was start the Kituiuni Community Water Project in an effort to address problems associated with the  drought and prevalent water shortages. It was an endeavour to try and help enable the local inhabitants to start small scale farming activities that might increase food availability as well as improve household incomes and hygienic conditions.
Makueni County is an administrative government in the Eastern Province of Kenya and its capital town is Wote. It has a population of 771,545 (1999 census) and an area of 7,966 square km [1]. It comprises of five constituencies: Mbooni, Kilome,Kilungu, Kaiti, Makueni and Kibwezi. KUSARD's Projects are mostly located in Kilome, Kilungu and Kaiti constituents, although we also have other isolated obligations in other parts of Kenya e.g Nairobi and Kiambu.