WE ARE SEEKING SUPPORT ON TWO FRONTS:
A

):- FINAL PHASE OF THE ST. CECILIA KITUIUNI SCH. KIDS' SANITATION PROJECT

.
Description of Need One:-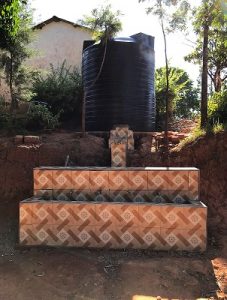 The completion of the St. Cecilia Kids' Handwash Project at St. Cecilia, Kituiuni, was a great success, thanks to our benefactors who helped us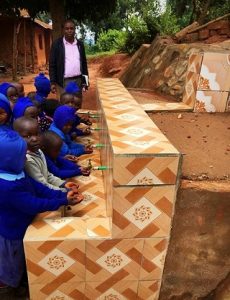 accomplish this project on record time for the benefit of our children's hygiene and thus provide a healthy environment for them to receive education! It was at an unprecedented time when the world was suddenly gripped by a pandemic the like of which had not been seen before and we saw the project almost as Godsend by arriving at such an opportune time; Needless to say, our gratitude to our patrons knows no bounds.
At the start of the new year-2021, as all children begin to stream back to school after the Corona Pandemic crisis subsides, at St. Cecilia School, the pupils will not find it difficult to keep up with their hygiene, owing to this Sanitation initiative by KUSARD, but at the peak attendance, when all students resume regular school schedules, the Project will struggle to keep up with the children's demand for more and more clean water to wash their hands, since the water reserve in the 10,000 gallon water tank will soon be depleted and without rains to replenish it, through the roof water catchment method, the tank will soon run dry, only to turn the new Sanitation Project into the metaphorical "White Elephant".
But all is not lost!
KUSARD owns a water project which it installed in the area, more than 15 years ago and it is still up and running, using the force of gravity to harness water from a weir constructed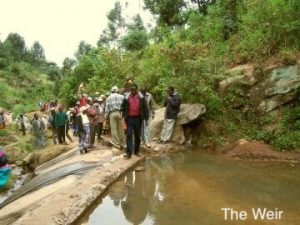 in a river which passes at a higher altitude and through a piping system distributes the water to the lower areas where, by good luck this Sanitation Project is located and where the water line from the Weir also once reached and today the school would still be supplied with water had some vandalism not occurred years back and some pipes stolen in a section of the water system, and were never replaced. Since then the water supply to the school was disrupted. 
KUSARD is seeking support to replace these pipes and the water valves lost in the affected section of about  three quarters of a mile; and to hire a skillful plumber to restore the water system and this very basic action will save the children's Project. The estimated cost is about $1,000 to $1,500 for the replacement of the pipes and valves, as well as undertake to an overdue badly needed upgrade on the long running Water system from the problem area, all the way up to the water catchment point at the Weir. With this, we can bring this Project  in line with our current objectives.
*

Would you help if you could, and especially if the idea aligns with your philanthropic giving sentiments!
**

For any support towards the cause please visit Our PayPal portal by the link below or
Copy and paste on a browser.
Thanking you in advance for even showing the slighted interest to touch a child's life!
https://kenyausarelief.org/donations/water_fountains/
***

Or you can view the launching of the project in March 2020!
THANK YOU!
B

)ESTABLISHMENT OF A YOUTH VOCATIONAL EDUCATION PROGRAM 
Description of Need Two:-
The second area of need, as explained below, relates to a Vocational youth initiative which KUSARD has started in the same general area at a nearby market town called Kithangathini, in Makueni County.
Background:
Kisekini Sub-location, like many rural areas in our Makueni County, is a deprived Community whose inhabitants are mainly poor folks, eking their livelihoods from small scale farming or as laborers. When I look back on the history of the place, it is hard to believe, it was once was a thriving and prosperous Community during the rolling coffee boom years of the 70s & 80s. However, after the collapse of the industry which ensued in the early 90s the community, whose single income generator was Coffee, referred to then as, the Black Gold, the Community spiraled into poverty.
Today, the majority of the 21,000 population of Kituiuni/ Kithangathini sub location who are subsistence farmers live beneath the poverty line of $1 a day and KUSARD has identified one of the urgent needs facing the Community as the lack of opportunities for School drop-outs, and unemployed youth living within the villages of this sub location and we decided to introduce a Vocational Training Program in an effort to try and ameliorate the situation. 
Inspired by our belief that, "each man and woman has the right to find in the world that which is necessary to live a decent and dignified life," our objective aims at: –
*
Training the youth in skills which could empower them to become either employable or self-employed.
**
Engaging the youth in productive ventures instead of leaving them out to drift like sailors on a radar less ship in a stormy sea to be tossed here and there. Rather than do nothing, KUSARD felt a need to throw these kids a lifeline, but to bring them to the shore, we need hands on deck to pull them back into conditions which offer opportunity which can turn their lives around instead of wallowing in despair only to end up in vices like alcoholism; drug abuse; gambling; prostitution; robbery etc.!
***
Addressing the emerging and pressing need for virtual learning opportunities for kids in rural areas. Due to the COVID-19 crisis, this need has become more accentuated on account of schools being encouraged to help their children to access learning materials virtually. But unlike in big cities where Wi-Fi is more readily available, rural area kids are disadvantaged for the lack of such easy access to it and KUSARD is proud to be able on the vanguard in availing this to those interested in taking advantage of the resource at the Kithangathini Youth Vocational Education Center (KYVEC)
WHAT IS KVEC?
Kithangathini Youth Vocational Education Center (KYVEC) is just one of many initiatives started by KENYA-USA RELIEF & DEVELOPMENT, INC (KUSARD) in Kaiti and Mukaa Constituencies of the Makueni County in Kenya, to improve the quality of life in rural Communities. It is a non-profit foundation registered and domiciled in N.J USA and its EIN number is 22-3537492  and our URL: https://www.kenyausarelief.org
The following courses have been proposed and would be targeted for Youth still in School or those who have dropped outs and other interested parties in the community like public servants and teachers.
* Computer Literacy 
**

Microsoft Office Certification packages
***

Tailoring
****

Electrical Wiring and Fittings 
*****

Plumbing/Masonry
Beneficiaries will be able to use course completion certificates provided by KYVEC to add value to their curriculum vitae and open wider career opportunities for job prospects and self-entrepreneurship.

Total Annual budget required to fulfil this Project is about: $16,000. Should you find any of these two causes described to be worthy of your philanthropic support please go to:
https://kenyausarelief.org/donations/water_fountains/