THE 2006 KENYA MISSION TRIP
RE-TRACING OUR FOOTSTEPS BACK TO AFRICA:-Recapping the 1st Mission, it had started in March 2004 when a group of 7 members of the "Friends of Kenya Committee" in the Wayne Presbyterian Church had made a trip to the Diocese of Machakos in Kenya, led by their Pastor, Rev. James Brassard in collaboration with Simon Kimatu Maweu, KUSARD's Executive Director, and what a wonderful time of it the team had, working in the rural communities of Kilungu and Kyale Parishes in Kenya! Their experiences there that time and the seeds we had planted and left to germinate and grow helped stir a burning desire in the hearts of our benefactors to return to the same land and to the same people they had met in order to assess how things had fared since we were last with those Communities and to perhaps bring back with us new friends whom we hoped to interest into following the beaten track back to Africa.
The memories of the 2004 African Mission Trip remained fresh in our collective memories, and were the catalyst for our followup trip in 2006:-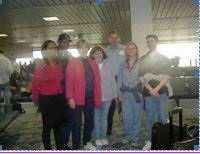 The trip had started at the Newark International Airport 2004 us mission team to kenya(see photo) and progressed without a hitch through out the long flight to Kenya. Except for a brief layover in Amsterdam we arrived in Kenya a day later and we were met at the Nairobi airport by the Catholic Relief Services Global Solidarity team who would be responsible for all our transportation for the time we were in the Diocese of Machakos. In addition, the Machakos Diocesan Staff were there also to meet us and of course KUSARD's Kenya officials. Suddenly Our Long Awaited Trip had become a reality! After brief introductions, the African Hospitality Tour Company, which was handling our tour segment of the Mission, drove us to the Pan African Hotel and after we freshened up, we went out and had lunch – our first meal in Africa! Then we spent the whole afternoon visiting the Nairobi animal orphanage and later a Maasai village where we saw a cultural museum and were entertained with Maasai songs and dances. Dinner that evening was at the Carnivore where we were served with all kinds of wildlife meats, including those of zebra and crocodile! After meals and drinks we were conveyed back to our Hotel for a night's rest before getting down to the real task that had brought us thousands of miles away to the very heartland of Africa.
As we separated that night to catch up with our sleep and jetlag, it was as if we were still in a dream. We were engulfed by that feeling you begin to have as you step on the soil of a land rich in tradition, hospitality and legend. You begun to keenly be aware that, this is where civilization started a long time ago; it is the land of the Maasai; the Kikuyu; the Kamba and the many other ethnic groups, which inhabit the land in relative harmony. The snow capped Mt.Kilimanjaro, in all its majesty, reminded us of the wondrous and yet enigmatic continent  with all its big game, the grass huts, vibrant cities; friendly people; are the hallmarks that would render our African experiences indelible in our minds.
But like everything in life, Africa is not without its woes. Hunger, poverty, ignorance and disease (especially AIDS); corruption; political strife are all part of life here; but then you realize, perhaps that is really why you are here; to see for yourself the misery people live in and become an advocate for social change. It gives one an opportunity to rethink ones set of values and what possibilities might exist that could help alleviate the suffering and perhaps create some lasting solutions to some of the problems we would no doubt come to encounter during the stay.
In our coming trip, just like in the previous one, we hoped to engage in developmental activities that our host communities would recommend for us to do; and of course the main purpose at this stage will be to strengthen existing relationships and forge new ones.
Questions&Answers before the trip:
During the Trip Where would we Stay during our second visit?
We hoped to be housed in a Pastoral center under the auspices of the Machakos Diocese in Kenya.
After one week of work, the delegates will travel to the foot of Mt. Kilimanjaro and go on a guided tour through the famous Serengeti animal park. They will spend a night or two here before proceeding to the white-sandy beaches of Mombasa. After the grueling work experience these will be welcome moments of relief, relaxation and socialization with friends and acquaintances.
What about Safety?
Kenya is a relatively peaceful country and is a tourist destination for many holiday makers. With the backing of the Catholic Relief Services' Global Solidarity team one can have the confidence that any eventualities would be addressed with dispatch.
What are the health concerns? Pre-trip inoculations are required as well as Malaria medication while on the trip. More details will be provided to registrants.
What is the Cost of the Trip? The dollar has been weakening and this might affect the cost by the time of travel. For the time being all we can provide is an estimated cost of $3,000 per person everything included i.e. Fare and the tour.
What are the travel dates? June 30th to July 16th 2006
Who is leading the trip?

SandraSandra Auld of WPC- has been in many overseas mission trips including the last one in March 2004 to Kenya. She plans to return and reconnect with people she met and especially an AIDS victim she rescued from abandonment by her family. She will also go to examine a Water Project in Kituiuni sponsored by her WPC Community. The first phase of the project is underway and will be completed hopefully in time for us to witness its impact on the community upon our arrival. Sandra hopes to meet the community leaders to discuss ways she can be of assistance particularly with the AIDS crisis. While there she will also assess the progress of a new Presbyterian outreach church in Kithangathini under Pastor Stephen Nzuve.
SimonCathryn Weiss (right): Catholic Charities Representative and a St. Joseph W. Milford parishioner and
Simon Kimatu Maweu (left):The founder of KUSARD and a native of Kenya will be assisting Sandra & Cathryn in planning for this adventure.
What will be our Mission? Depending on the skills of our Mission team participants, we will be involved in a number of activities, such as:-
Working in the Kituiuni Water Project sponsored by the WPC in memory of Linda Daghlian
Visiting the Food and Nutrition Program sponsored by St. Therese Succasunna and assessing what impact it has on children
Offer free medical services possibly Eye & Dental Exams
Contacting VCT AIDS tests in the Kituiuni Health Center/ possibly offer a free clinic like we did last year
Meeting with KUSARD local leaders to brainstorm on various matters of development;
Listening to the peoples' ideas and suggestions and learning their culture in order to try and understand them better and what role we could play in improving their quality of life;
Educating ourselves by learning how to adjust to a new environment and culture and to be sure not to impose our ways on those of the local people.
Hold a Tree planting Session.
Glimpses of Africa
Africa Map Kamba Hut African Art African Wild life Lion
BRINGING A CONTAINER TO KENYA
In preparation for the trip, the Mission team collected used items like clothes, books, computers, medical supplies, children's toys etc. to bring with them to their friends in Kenya. A 40ft container that had been donated to the Group by the Brooks Company in New Jersey was to be placed at the Wayne Presbyterian Church compound where donated items could be brought to and stored in, as we continued to prepare to get it filled and then have it shipped a head of us in June in order to meet it in Kenya upon our arrival on July 1st 2006.
The enterprise was not easy. First the town of Wayne had to grant a permit for the container to be placed on the WPC grounds. But it seemed to take forever to grant us the permit as the city machine got bogged down in endless wrangles and could not seem to reach a consensus on the matter. Sandra and her church members did their level best to push the matter and for a while seemed positive for a break to the impasse. Monday March 27th was to be the day we hoped the container would arrive at the church property which is situated at the junction of Ratzer Road and Alps Avenue, in Wayne.
The cost to ship the container to Kenya had been estimated at slightly over $7,000 and solicitations for funds to help defray some of these costs was in high gear. One of the prized items that would be travelling in the container was an X-ray machine donated by a retired dentist, who is a member of the Wayne Presbyterian Church. (This equipment will be installed in the rural hospital of Kikoko Mission where electricity is available and will benefit the people of the area the team is visiting in the Diocese of Machakos in Kenya.)
There was a tremendous response to our call for donated items. The outpouring of willing donors led to our having to request our donors to hold off a bit as we had all run out of storage space at our homes. After March 27th all donated items could be brought directly to the container at the Hinchman Brother's Cement Factory premises which was the alternative storage site after the Wayne Township failed to agree to allow the container to be stationed at the Wayne Presbyterian Church compound.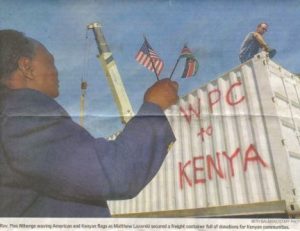 PREPARING THE CONTAINER FOR SHIPMENT -loading container
Some of the Donations Judy prepares contents manifest Coding, weighing, and labelling Loading the container
A Break and a Bite! Almost done! The Finished Product
Loading the container continues A break and a bite to boot! Almost done! Done and Ready for the long voyage!
Bon Voyage! WE PAY TRIBUTE TO:- Al & Lois Rosetti; Bill & Marlene Fauerbach; Calvary Baptist Church; Catholic Diocese of Paterson; Cathryn Weiss; Bob Weiss; Ceil & John Robinson; Christian Fellowship Council; City Crane; Catholic Relief Services-Baltimore/Kenya; Dick Cronen-EJ Brooks; Donna Dec; Dr. Al Ayoub;Dydacomp; Eileen Fletcher; EJ Brooks Employees; Eleanor Cassagrane; Fred Schick; Gary-Hopatcong Rigging; Grace Church; Harriet Hacker (UCC); Home Depot; James & Dr. Andrea Brassard; Sarah Westrip; Jill Moore; John Centrano; Judy Hartley; June Uma/Stone Industries; Karen & Don Hinchman/HJ Hinchman & Sons; Karen Von Barcom; Ken Kardux; Martha Carrion; Martin Luther King Public School; Matt & Jill Spence; Mayor Schott Rumana; Moonachie Presbyterian Church; Pam McCullugh; Paul Muchori; Preakness Bible Church; Preakness Reformed Church; Princeton Seminary; Rev. Pius Nthenge; Rita-Ann Schmick; Roberta Jankiewicz; Rocky McCullough; Roger Gates; Sandra Auld; Shomrei Torah; Simon K. Maweu; St. Therese Succasunna; Sue Siegler; Tom Allwein/Bob Skinner; Warren Point Presbyterian Church; Wendy & Rich Warwick-Scotch; Plains Rescue-Fanwood; Presbyterian Church-Cranford; Presbyterian Church-Wayne; Westminister Presbytery; William Paterson University; WPC Donnations for medicine; WPC-EJ Brooks-other for Trees
Bon voyage! FOR SHARING GOD'S GIFTS WITH THEIR LESS FORTUNATE BROTHERS AND SISTERS IN KENYA
Many thanks to everyone for the enthusiasm in wanting to help those brothers and sisters in Kenya through this drive. Also many thanks to the Wayne Presbyterian Church community for facilitating this effort and the sacrifices that had to be made by all those concerned, especially Sandra and the church Committee. This was a real shining moment for the partnership of KUSARD-USA and the Wayne Presbyterian Church. It is a real tribute to all those who volunteered their time and efforts to bring us to this point when the container has been completely packed and rendered ready for the long journey home – Africa.
AN UPDATE ON THE CONTAINER:
The container finally arrived in Nairobi in July 30th 2006 but unfortunately, it has been stuck at the Nairobi clearing Depot as duty exemption documents are sought from the Government. All the goods in the container, having been donations from Friends in the United States, it had been assumed no duty would be charged on them since they were all used items. We therefore hope that, soon a resolution will be found and the goods released for distribution to those they were intended for.
ACTIVITIES OF THE MISSION 2006 IN KENYA:
PARTICIPANTS:
1. Bishop Martin Kivuva Musonde Bishop of the Catholic Diocese of Machakos
2. Francis Kikolya Development Coordinator, Machakos Diocese
3. Fr. Daniel Kitila Director, KUSARD – Kenya
4. Thomas Kiamba Chairman, KUSARD – Kenya
5. Sosimus Muola Secretary, KUSARD – Kenya
6. Michael Maundu Program Coordinator, KUSARD – Kenya
7. Fr. Dominic Malai, Dean Kilungu Deanery/Parish Priest, Kilungu Parish, Diocese of Machakos
8. Fr. Paul Mutuku Parish Priest, Kyale Parish, Diocese of Machakos
9. Sr. Bernadette Coordinator of Men and Women, Machakos Diocese
10. Fr. Paul Munguti Parish Priest, Katangi Parish, Diocese of Machakos
11. Agnes Kithikii Global Solidarity and Partnership Officer, Catholic Relief Services – Kenya Program
12. David Muturi Driver/Mechanic, Catholic Relief Services
13. Simon Maweu-Kimatu Founder, KUSARD – USA
14. Cathryn Weiss Mission Team Coordinator and Catholic Charities Representative,
15. Sandra Auld Mission Team, Wayne Presbyterian Church
16. Sue Sigler Mission Team, Wayne Presbyterian Church
17. Kathy Kimble Mission Team, Warren Point Presbyterian
18. Donna Dec Mission Team, Wayne Presbyterian Church
19. Fr. Robert Hooper Mission Team, Paterson Diocese
20. Francis Kivinda African Hospitality Holidays Tour Company
21. Sylvester Kimeu African Hospitality Holidays Tour Company
A USA DELEGATION VISITS MACHAKOS DIOCESE: JUNE 29- JULY 14 2006
HOST:THE DIOCESE OF MACHAKOS
FACILITATOR:CATHOLIC CHARITIES & CATHOLIC RELIEF SERVICES
COORDINATOR:KENYA/USA CHRISTIAN RELIEF & DEVELOPMENT, INC.(KUSARD)
PREAMBLE
It is said that people come into our lives for either one or all of the following:
-A REASON, A SEASON or A LIFETIME.
For a reason– they meet a need, give some aid, support or guidance.
For a season- they live and share with us peace, restore hope & make us have joy and happiness but just for a season
For a lifetime– they teach us lessons to build upon in maintaining better relationships in future.
We in KUSARD believe that the U.S delegation came in to the lives of the people of Machakos Diocese for all the above during their mission visit to Kenya this year. As coordinators, we did not have many roles to play on the groundwork activities since the Diocese Leadership team was the one mandated to make all arrangements to ensure smooth flow of activities.
We wish to thank each and every person who participated to make this visit a success, we wish also to confidently confirm that the preparations exceeded by far the visitors expectations. Those of KUSARD members were left with a memorable impact in all those who were involved. We should jointly utilize that as our driving force for future undertakings.
The following is a short summary of the experiences, expectations and accomplishments that could be used as guidelines in evaluation and for forging the best way forward in future. This could also help the facilitator; the host and the coordinator to progressively strengthen and improve the established and future relationships in the dioceses.
JUNE 06 2006 PREPARATIONS FOR THE VISIT:
The Kenyan team had done all the necessary preparations including formation of a leadership team in Machakos Diocese under the guidance of CRS Global Solidarity Office.The US team delayed in advising their major objective of the mission visit and personal expectations creating unwarranted vacuum for guess work. Our recommendation is Catholic Charities in US should be fully involved in orientation and guidance of future visitors.
JUNE 29TH 2006 DATE OF ARRIVAL:
The African Holidays Hospitality Co. touts the welcome sign 2006 KENYA MISSION ARRIVES IN NAIROBI. The facilitator, host and coordinator were all represented at the airport together with a tour company to warmly receive the visitors on arrival. There were no hitches in clearing with the airport authorities. There were also no security lapses. The Visitors, some of whom were visiting Africa for the first time were safely driven to their residential hotel with their luggage. An ambulance from Katangi Parish collected some boxes said to contain drugs, however it turned out later that the contents were not all drugs.
JUNE 30TH 2006:ORIENTATION DAY
Cathryn Weiss of St. Joseph W.MilfordA Brief Rest At St. Jude AthiRiverVisitors checked out of the Pan Africa Hotel about 8:00am on Friday and were transported to CRS headquarters for orientation by the CRS team led by their country representative-Ken MacLean. The Machakos Diocese Leadership team was fully present and all actively participated in the orientation that was conducted at an internationally acceptable standard. From then onwards the visitors started realizing that they were being accorded a special treatment.
On their way to Pastoral Center in Machakos Diocese the visitors were treated to a special lunch at St. Jude parish -Athi river, given a chance to relax and interact with some students in the local primary school in a very well coordinated manner.
Finally they arrived at Machakos where they were warmly received at Machakos Pastoral Center by non other than the Bishop himself and his team. Dinner and accommodation perfect, no complaints whatsoever and the Bishops absorbs all costs incurred at the center.
JULY 01 2006:PARTNERSHIP VISIONING DAY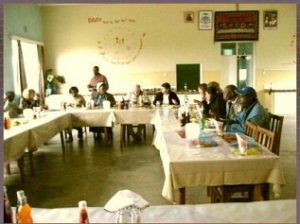 Paterson and Machakos Dioceses envision a future together USA team at the Uganda martyrs orphanage. The CRS team led by the Global Solidarity Officer, Machakos Leadership team led by the Chairman, the KUSARD team and the visitors participated actively the well timed and coordinated sessions of orientation and partnership visioning that left all feeling like true brothers and sisters called for a common purpose.
However one of the participants highlighted an omission that all were not Catholics and were losing track in some areas while others appeared to have prepared for another outreach that was not appearing in the program – Lack of clear information from the US team was once again said to have caused this however all the issues were sorted out and an agreement reached. A nice lunch, a guided afternoon free walk at Machakos town and a delicious dinner at the Bishops residence completed the other part of the day. So another day ends well.
JULY 02 2006: DAY OF WORSHIP:
The USA Team worship at Kola visitors accompanied the Bishop to Kola parish together with the CRS officials and participated in church service there while the other members who belonged to the Presbyterian church were taken to the Machakos Baptist church which is led by one of their pastors in US. They all enjoyed a good Sunday service with freedom of worship far away from their homes The visitors had good time interact, share and discuss various matters with the congregations. The day ended well and all got back to their residence on time
JULY 03 2006: THE FREE MEDICAL CLINIC DAY
It was agreed that 2 different free medical camps be contacted simultaneously on this day one at Katangi and the other at Kiambu-the home area of one of a Presbyterian Church minister. CRS and the Catholic team went to Katangi Parish while the Presbyterians went to Kiambu accompanied by 2 KUSARD officials. Patients got free quality treatment at both centers and at the end of the day over 1790 were treated with Kiambu recording 1040 patients.
The visitors once again got a chance of interacting and sharing with members of the different communities their experiences and also gave the sick personal consolations. Lunch was offered at the different sites and both teams traveled back safely to their residence at Pastoral Center. Another had ended well.
The team contacted a free clinic in Katangi and KikuyuMore than 2,000 patients were treated both in Katangi and Kiambu KenyaTreatment in progressAppreciative patients
JULY 04 2006: VISIT TO KILUNGU DEANERY
Under the guidance of the Dean who is also the chairman of the leadership team, the visitors were warmly received at both Kyale and Kilungu parishes, briefed on some of the ground activities including the HIV/AIDS program being run by an American Volunteer, visited the handicapped home and the upcoming computer college.
The visitors appeared to be developing a sense of belonging and confidence that they were in the right hands and with the right people. Dinner was offered at Kilungu and accommodation at some quarters at Precious Blood Sec School where their day ended well.
Luncheon at Kyale ParishKUSARD Volunteer Will Schmerge addresses visitors. The Small Home Welcomes the visitors. Visitors arrive at Kikoko Parish. A typical morning each day for one week
JULY 05 2006:VISIT TO LINDA DAGHLIAN MEMORIAL WATER PROJECT
A visit to the intake point of the water project. The team led by the Dean left early or a visit to the intake point of the water project. On the way they made a stop over to acknowledge greetings and entertainment from students and parents of a local primary school where local dancers did their best. There after the team was taken to a high point where they enjoyed an aerial view of the area covered in school feeding program.
The team then descended the hills together with members of the community to the intake area through a neighboring home where they also experienced the African hospitality. At the intake point work was still going on and some of the visitors decided to walk along the pipes to the end accompanied by some of the KUSARD officials. It took one and half-hours to reach the end of the piping and another one hour to get to a local primary school where lunch was being served arriving there at almost 16:00 hrs.
They all had a wonderful but tiring experience with the community but the day ended well.
JULY 06 2006:ANOTHER DAY WITH THE COMMUNITY
The team split into groups as follows: – The priest opted to remain at Kilungu Parish, two ladies went to work at the mission hospital, while another two went to work at a local village polytechnic. The last but not the least opted to chat with students in 2 local high schools. At the end of the day all reported having enjoyed their different activities of the day. Interactions with the communities had given them a better understanding of their purpose in the mission trip.
Another day had ended well again.
JULY 07 2006:TREE PLANTING DAY
Before splitting to go to different institutions to plant the trees, members were informed that all trees planted that day were to be symbolic. The main objective was to sensitize members of the community on the need to plant trees at water catchments areas to prevent desertification. By the end of the day the team had visited all targeted 12 institutions that included primary, secondary schools, churches and polytechnics. In all the institutions they had acknowledged warm receptions, enjoyed some dances and planted at least 10 symbolic trees in each.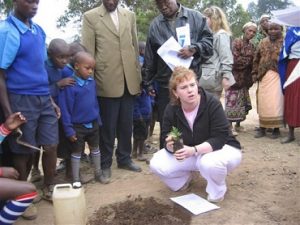 Tree planting at Thomeandu School by the USA teamTree planting at Mutanda Primary School. Tree planting at Kikoko girl's Primary School It was a very busy day and lunch was taken at 17:00hours. All in all it was once again a successful day.
JULY 08 2006:FR HOOPER'S DAY WITH CHILDREN
The team split to two with one visiting some distance schools and later joining the rest at a local outstation of Kilungu Parish where there is a primary school and a village polytechnic both sponsored by the parish. It is also the same area where a dispensary was built with the help of the Presbyterian Church.
After dances, acrobatic shows & other entertainment the team hosted a party where over 1000 children from 6 different schools and 200 parents were fed to their full. A special cake to mark the occasion was cut and clothes & book donations given to the communities.
On their way back, the team visited the dispensary and during a speech by a local leader, it appeared one of the visitors was being acknowledged more than the rest. The visitors demanded equal treatment and this was addressed later and another day ended well.
JULY 09 2006:DAY OF WORSHIP- KILUNGU PARISH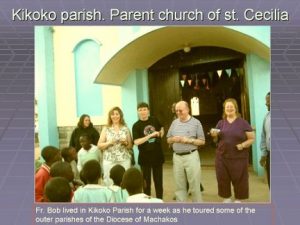 The CRS officials, KUSARD team and members of the Diocese Leadership team had accompanied the visiting mission team through out since the time of arrival to this day when they were to start bidding farewell to the community of Kilungu Deanery. KUSARD Country Director together with the Dean celebrated the colorful church service. After the service each of the visitors received very beautiful gifts of African lessos, animal, carvings, hats and baskets. They could not hide their tears of joy.
Later the team went for lunch at KUSARD's CEO's residence and proceeded to Machakos for evaluation, dinner and closing with the Bishop before proceeding back to Nairobi for game park tour the following day through the Machakos Baptist school.
The final farewell dinner before departure for the United States was held on Thursday 13th July 2006 at a Nairobi hotel where all confirmed that the visit was a tremendous success.